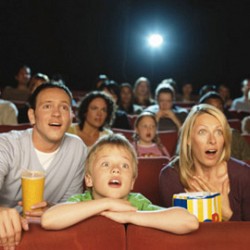 By Dr. Ted Baehr with Dr. Tom Snyder
Decades of research and evidence clearly shows that the mass media of entertainment creates the culture that shapes the hearts and minds of the average person, especially children and teenagers. That culture also elects the politicians who write the legislation, appoint the judges and hire the teachers that affect families and children everywhere.
To serve and protect you and your family, including your children and grandchildren, MOVIEGUIDE®: The Family Guide to Movies, Entertainment and Culture offers the following questions you can apply to any movie, video or television program, to make you and your family more media wise and more culture wise, so they may choose the good and reject the bad:
1. What kind of role models, positive and negative, are the main characters?
2. Who is the hero? And, who is the villain? And, how do their character traits agree with a biblical hero or villain?
3. Do the moral statements and themes agree with a biblical worldview?
4. Are real consequences to sin exposed and rebuked?
5. How are relationships and love portrayed?
6. How are Christians, religion, the church, the Bible, and God portrayed?
7. Does the language honor God and people?
8. If violence is included, how is it presented?
9. How much sexual activity and nudity is included?
10. How appropriate is this material for my family and me?
"Give your servant a discerning heart to govern your people and to distinguish between right and wrong."  – 1 Kings 3:9
Editor's Note: For much more information and useful tips about this vital issue, and many more topics, please be sure to read THE CULTURE-WISE FAMILY by Dr. Ted Baehr and Pat Boone, available here.   Also, please check back daily for the latest reviews of the latest movies. MOVIEGUIDE® also has reviews of more than 4,000 movies, videos and television programs of the recent past and from the Golden Age of Hollywood.