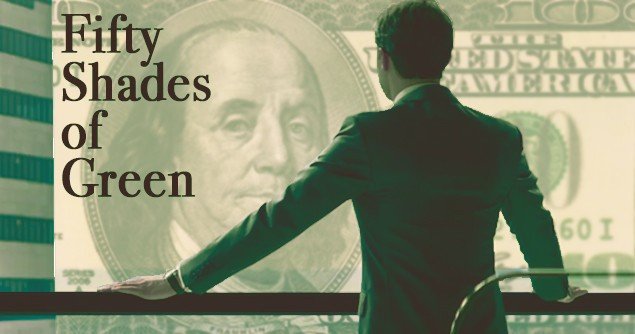 Fifty Shades of Green:
What Does the Box Office Success of FIFTY SHADES OF GREY Mean for Christians?
By Ben Kayser, Managing Editor
So much has already been said regarding the erotic romantic drama FIFTY SHADES OF GREY and its unashamed provocative lewd content. We've written multiple articles as well as a review on why Christians should stand against such stories. Nonetheless, the movie smashed box office expectations pulling in more than $94 million dollars domestically over the four day weekend. These numbers are saddening at the very least. Why would so many people put their money toward a movie so disgraceful? Have we as a nation stooped this low? What does this mean for Christians who desire to make a difference in culture?
Read more Movie Review of Fifty Shades of Grey
Here are three things to consider:
Understand the cause.
The fact is, the mission of the Church is no different this week than it was last week. People still desperately need the transforming and redeeming love of Jesus Christ. The box office success of FIFTY SHADES OF GREY in America shines a light on a dark desire that is usually kept secret, or many times just brushed under the rug. Just a few weeks ago, law enforcement arrested nearly 600 people involved with human trafficking during an operation leading up to the Super-Bowl. This nation is plagued with lust and people will try anything to find happiness, or at least do anything to forget their pain. Is this not the purpose of romantic movies like FIFTY SHADES, be they erotic or not? Everyone longs to be known and loved. For many who are dissatisfied with various elements of life, FIFTY SHADES OF GREY presents an option that sounds enticing, but as many of us know, ultimately leaves one feeling empty.
Read more Don't Let 'Fifty Shades of Grey' Lead Your Daughter Astray: A Concerned Mother's Response
Understand the implications.
Part of the bigger issue is that people don't see the negative impact that novels and movies like FIFTY SHADES have on people. While Britain restricts anyone under the age of 18 to see the movie, children in France as young as 12 years-old will be allowed to see FIFTY SHADES OF GREY in theaters. It's no wonder that a recent Pew Research study on global views of morality showed that 40% of French people believe that extramarital affairs are "not a moral issue."
Read more Fifty Shades of Comcast NBC/Universal
Study after study, however, shows that sexual deviancy not only results in a nation's moral decline, it also negatively impacts nations economically in a domino effect in which the end result is broken and impoverished families. The filmmakers don't want to hear it, but young people seek to emulate what they see on the screen instead of wisely discerning it. It may not be apparent immediately, but even the slightest implication in FIFTY SHADES that tells young men that women want to be "dominated sexually" will result in an increase of rape and abuse. If you're going to argue that the story is being misinterpreted, one look at the marketing and lewd merchandising that's selling the movie to audiences is proof enough that the studio wants viewers to be enticed.
Understand the solution.
At the end of the day, the solution is always the same. People are unsatisfied with material things and want love, and if they can't find meaningful love, they want a distraction. It does no good judging or pitying those who choose to consume media like FIFTY SHADES OF GREY. The best we can do is lovingly but firmly warn people of how dangerous and harmful movies like this can be to us personally and society as a whole, not to mention the eternal consequences of giving into such terrible temptations. Pray for those who are looking for satisfaction elsewhere, that they might find it in Jesus Christ, who never disappoints.
Read more Four Ways to Respond to the FIFTY SHADES OF GREY Movie
FIFTY SHADES OF GREY may have won the weekend box office, but the year is just starting, and, as usual, moviegoers in 2015 are still going to show Hollywood that what they really want is stories with real heroes and positive messages that move their hearts and feed their souls.
If you want proof, watch The Movieguide® Awards Saturday, Feb. 21 on the REELZChannel, at 7 p.m. Eastern Time and 4 p.m. Pacific.
Other Fifty Shades Articles you might be interested in:
Four Ways to Respond to the FIFTY SHADES OF GREY Movie
Don't Let 'Fifty Shades of Grey' Lead Your Daughter Astray: A Concerned Mother's Response
Fifty Shades of Comcast NBC/Universal
Movie Review of Fifty Shades of Grey